How to Convert a Word Doc To PDF
This article shows you the step-by-step process to convert a word document to a pdf in Microsoft office, so to convert a Word document to a PDF you need to install office on your machine and follow the step below
Note
Microsoft Office converts Word to PDF, the converter works for all the Word versions from 2003 to 2019.
Read More:How to Hide the Taskbar In Windows 10
How to convert Word to PDF
1. Choose the Word Document you Want to PDF and open with the office Word App
2. On Microsoft Office Choose "file Manu" and Click on "Export"
3. After Click "Create PDF OR XPS Document"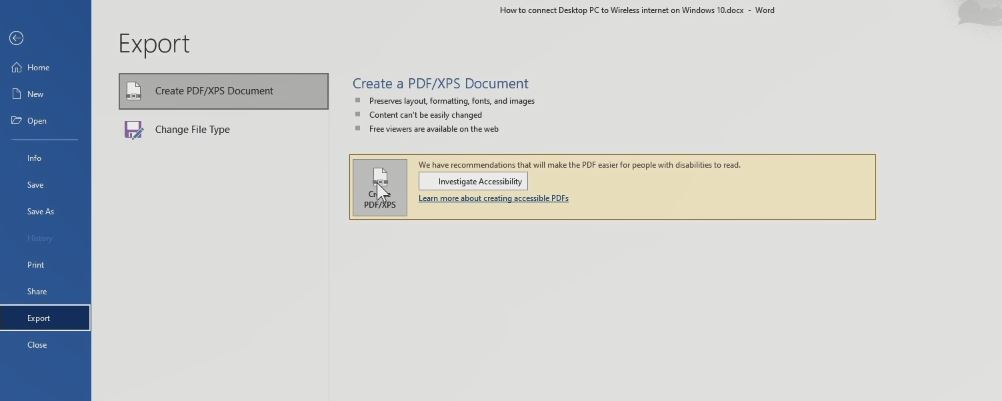 Watch the Video

Again, You can read on, How to Protect Converted Word Document to PDF, How to Convert a Word Doc To PDF, How to Convert Excel Doc to PDF, How to Convert PDF Document to Word, How to Convert PowerPoint Presentation to Video and How to Protect Excel File with Password.
I will also recommend you read the post on Turn ON or Off Two Factor(2F) Authentication for your Gmail using your Phone Number, Add alternative Email or Phone to Reset Account Password in the event of forgetting your Login credential, How to Use Google Translate and How to Login to Gmail Account, Sync Phone contact, Export Contacts from Gmail Account to Phone it could be of help.
Conclusion
Now, you must have an idea of How to Convert a Word Doc To a PDF. Ask your questions in the comments below. Try to follow us on Facebook, Instagram , and Twitter. Also if the post has helped you Kindly subscribe to our YouTube channel to continue learning.
More Video